CCHS is proud to annouce the Irish Giving Day 2023 total of $204,121 as of March 21! There is still time to donate to support much needed tuition assistance and scholarships and support for academic, arts and athletic programs at Camden Catholic. Thanks to all who have donated so far!
https://tinyurl.com/24amh53a
Camden Catholic is pleased to announce that we have selected Coach Seamus O'Connor as the new Camden Catholic Boys Soccer Head Coach. Coach O'Connor is a seasoned soccer professional who has coached both mens and womens teams at various skill levels, including the Temple University Women's Soccer assistant coach from 2011-2013 before being named head coach in 2013. Coach O'Connor's Temple coaching highlights include: 2014 record of 11-8-1, the team's first season with 10+ wins since 2001; 2015 record of 12-7-1, and a mark of 4-4-1 in the American Athletic Conference. This was the first back-to-back 10-win seasons ever in Temple women's soccer history, and they also finished .500 in conference play for the first time since 1995. Before arriving at Temple in 2011, Coach O'Connor served in multiple capacities in the soccer programs at Chestnut Hill College, starting in 2007. He first coached the men's team before acting as Director of Soccer and coaching both teams for the 2008 and 2009 seasons. In 2010 he chose to exclusively coach the women's program. In his second season coaching the women, O'Connor led the Griffins to their first postseason appearance as a member of the Central Atlantic Collegiate Conference (CACC) and National Collegiate Athletic Association (NCAA) Division II. He was recognized with the CACC Coach of the Year Award at season's end. In 2010 the team was ranked #8 in the NSCAA East Region and they qualified for a second postseason appearance in a row. He has also held head coaching positions at St. Joe's Hammonton, Immaculata University, Alvernia University and PDA South Youth Soccer Club. Coach O'Connor graduated from Athlone Institute of Technology in Ireland in 1997 where he was the starting goalkeeper for three seasons. While in college, he trained with League of Ireland clubs Athlone Town and Longford Town. His soccer education includes a Football Association of Ireland (FAI) Coaching License, FAI Goalkeeping License, National Soccer Coaches Association of America (NSCAA) National License, NSCAA Level 2 Goalkeeping License. He is a native of Galway, Ireland, resides in Medford, N.J., with his wife, Alexandra, son, Shay, and daughter, Annabridget.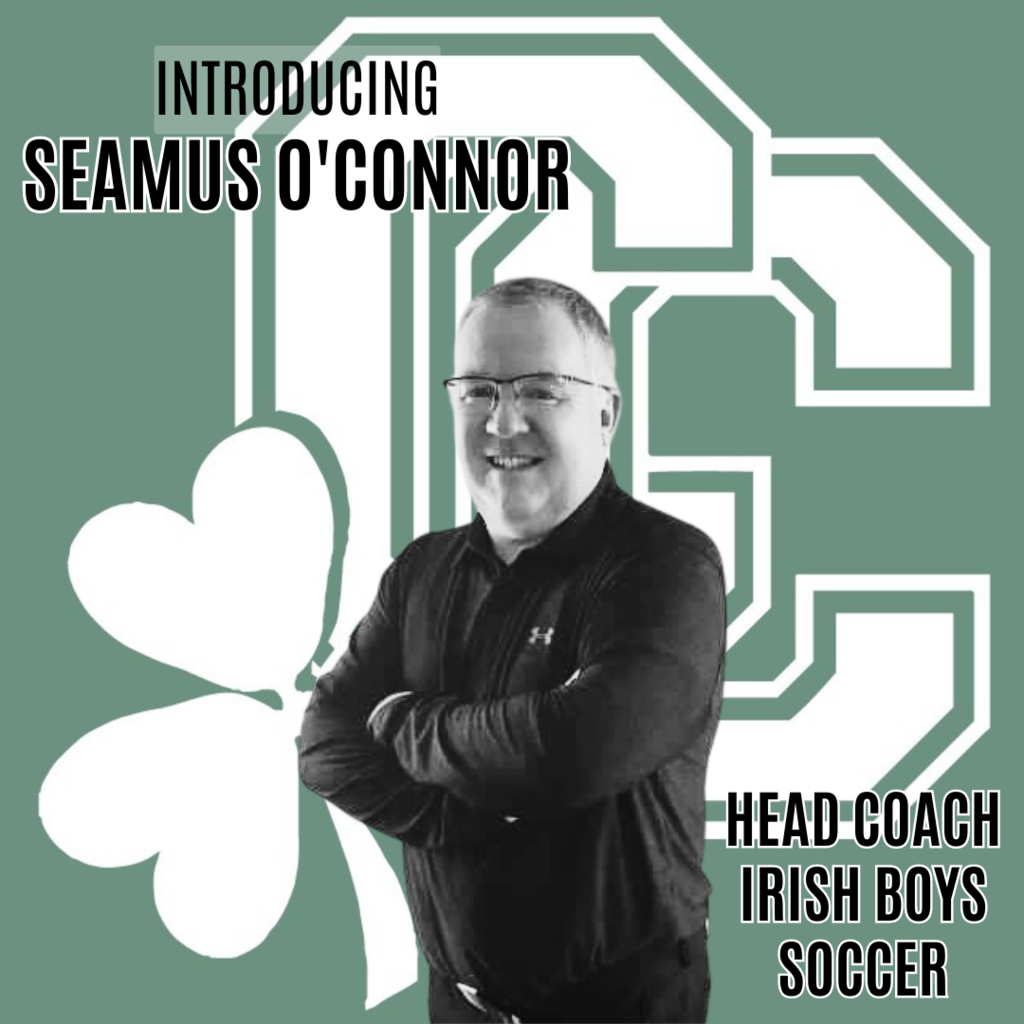 CCHS is proud to announce Wayne Gilliam II '10 as our new Head Football Coach! Coach Gilliam was most recently the defensive backs and wide receiver coach at Paul VI High School. Since the 2021 season, Coach Gilliam helped evolve the Paul VI defense by changing schemes and coverages, which led to a 20 interception season and allowing 176 points that season. He also led the defense to only allow 134 points on the season in 2022. Coach Gilliam graduated with a BS in Business Administration and Sports Management from Widener University and earned his Master's in Education Administration from Grand Canyon University. He works as the Director of Operations at the High Road School in Philadelphia.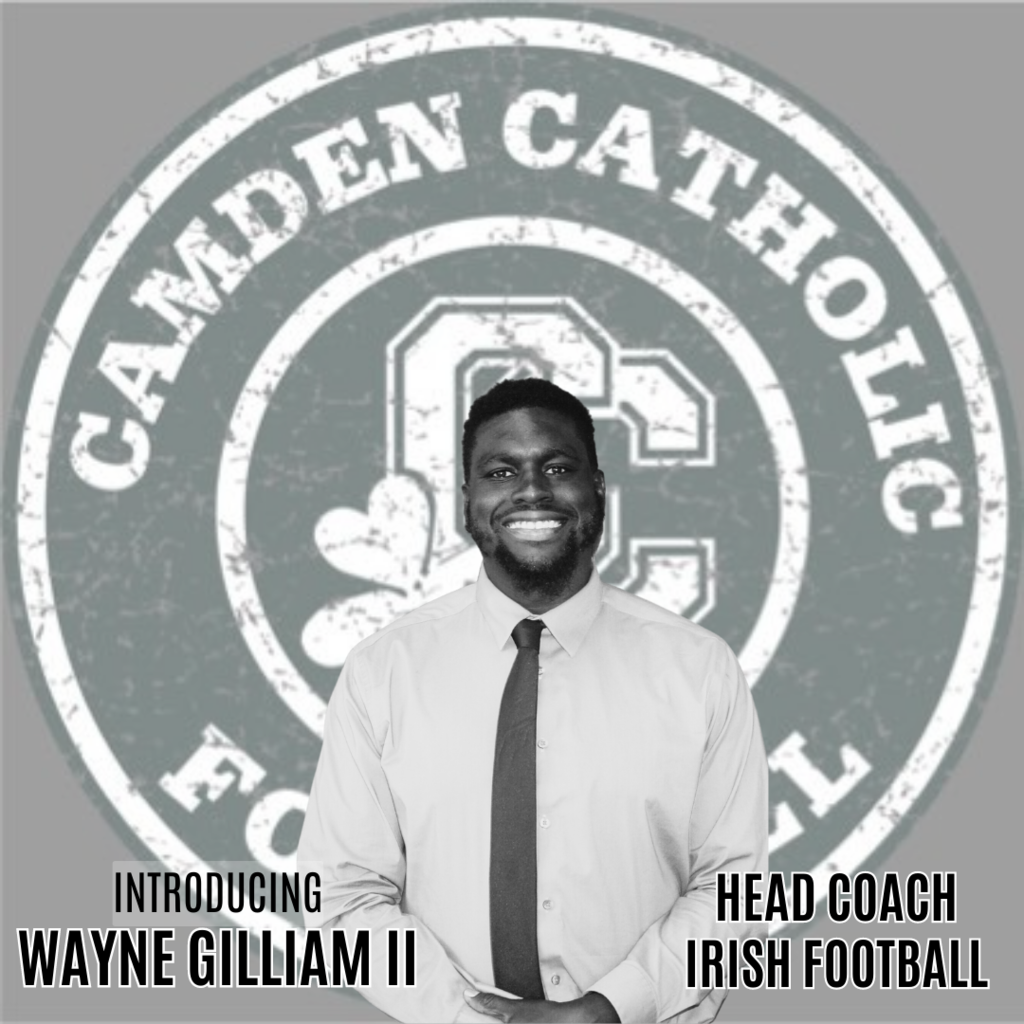 Summer Camp Registration is open! Theater, STEM, Robotics, HSPT Prep, Coding, Forensics, Studio Art & a ton of Athletic Camps will be offered. Online registration is preferred. Click here for dates, ages, details & registration:
https://www.camdencatholic.org/page/summer-camps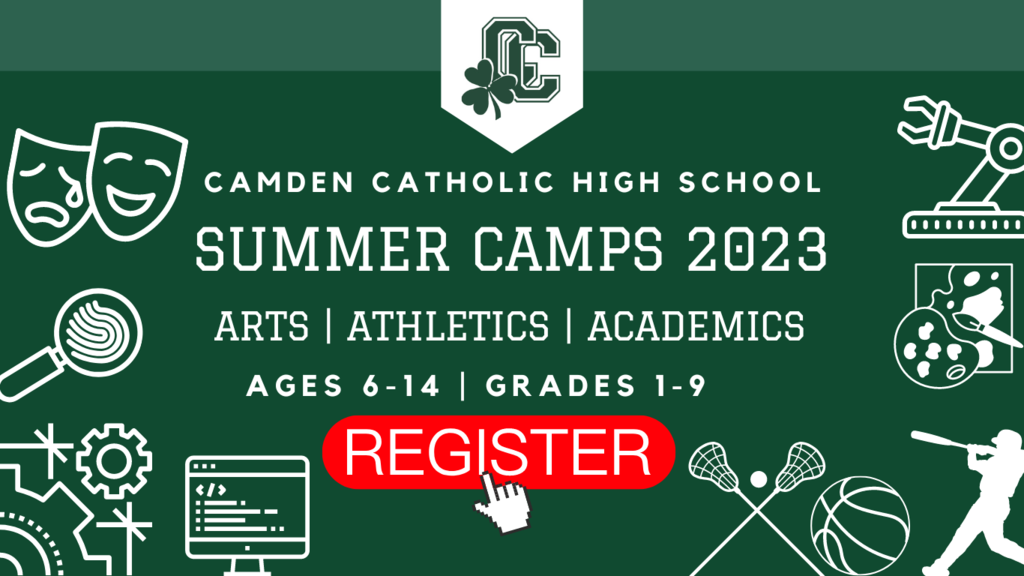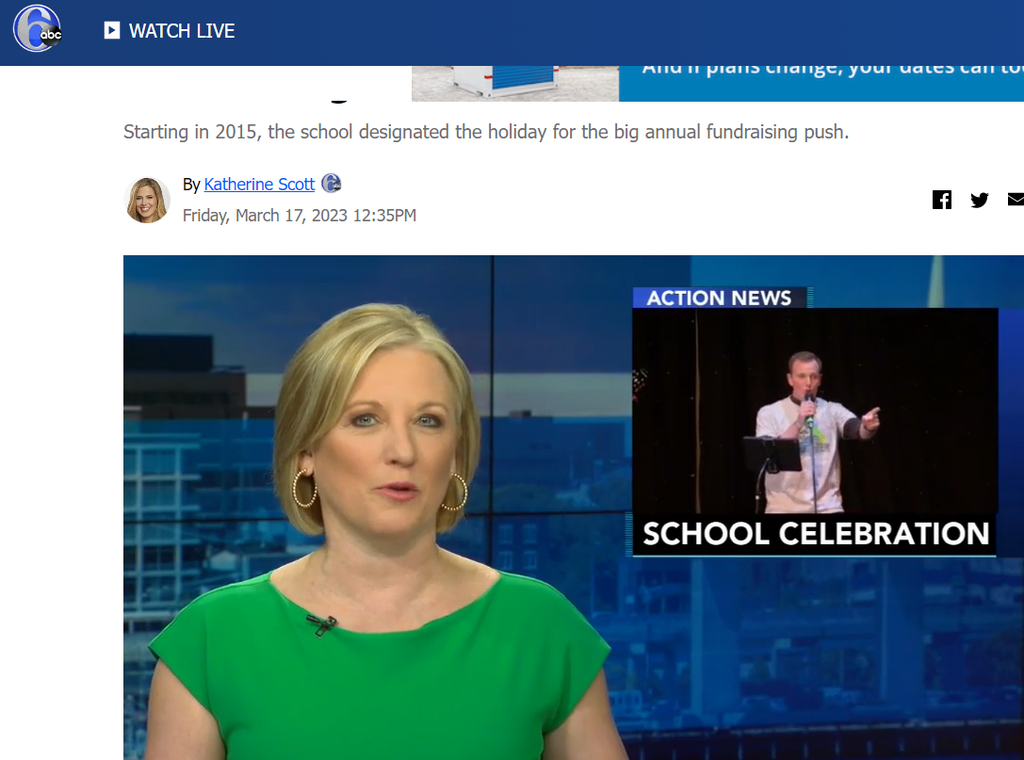 Irish Giving Day 12 Noon Update: we have raised a total of $122,293! Thank you to all of our loyal donors.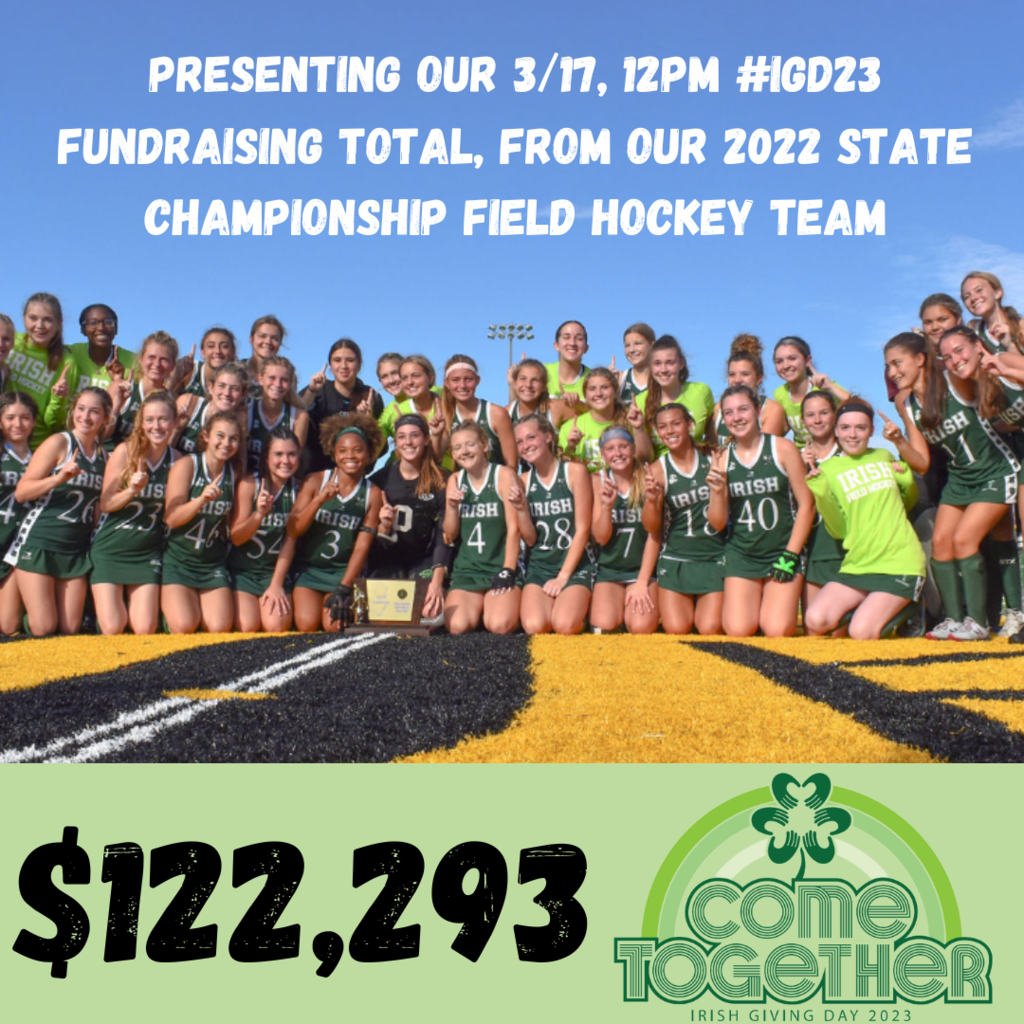 Happy St. Patrick's Day and Irish Giving Day 2023! Thank you to all of our very generous donors already today. We opened up the day with over $78,000. Can we make it over $100,000 before noon?!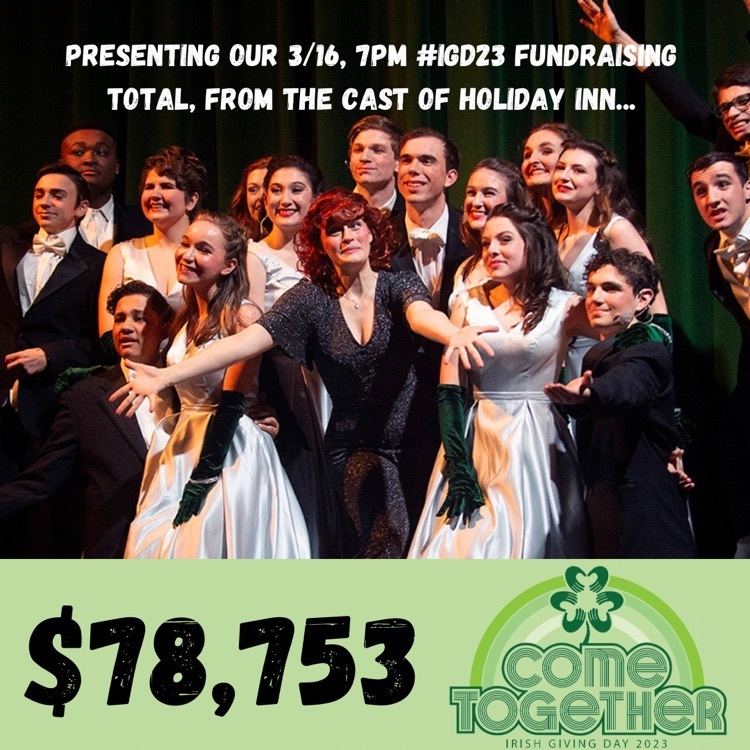 Holiday Inn continues this weekend with shows Friday, March 17 and Saturday, March 18 at 7:30PM and the finale on Sunday, March 19 at 2PM! Tickets are available online and at the door for this delightful and joyful Broadway experience reminiscent of the Fred Astaire era. You will celebrate every holiday on Grandi Auditorium stage and will smile through the entire show thanks to the incredible talent, gorgeous sets and costumes.
https://tinyurl.com/22tt6vme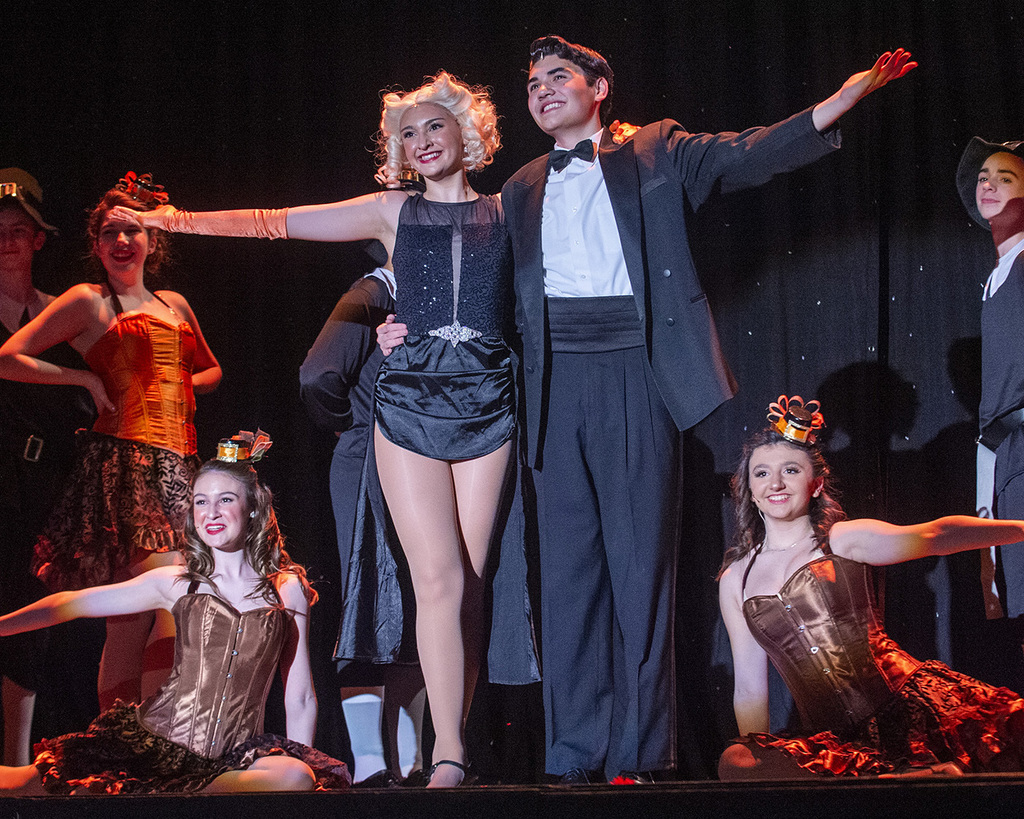 Alumni - where does your class rank in the Alumni March Madness Challenge? Gifts now through Irish Giving Day on March 17 will count for Irish Giving Day and can help lead your class to the 'Great Eight'. It's still anyone's game, as only 13 donors separate the Class of '94 from the top seed! Visit
www.camdencatholic.org/marchmadness
or link in bio for more information.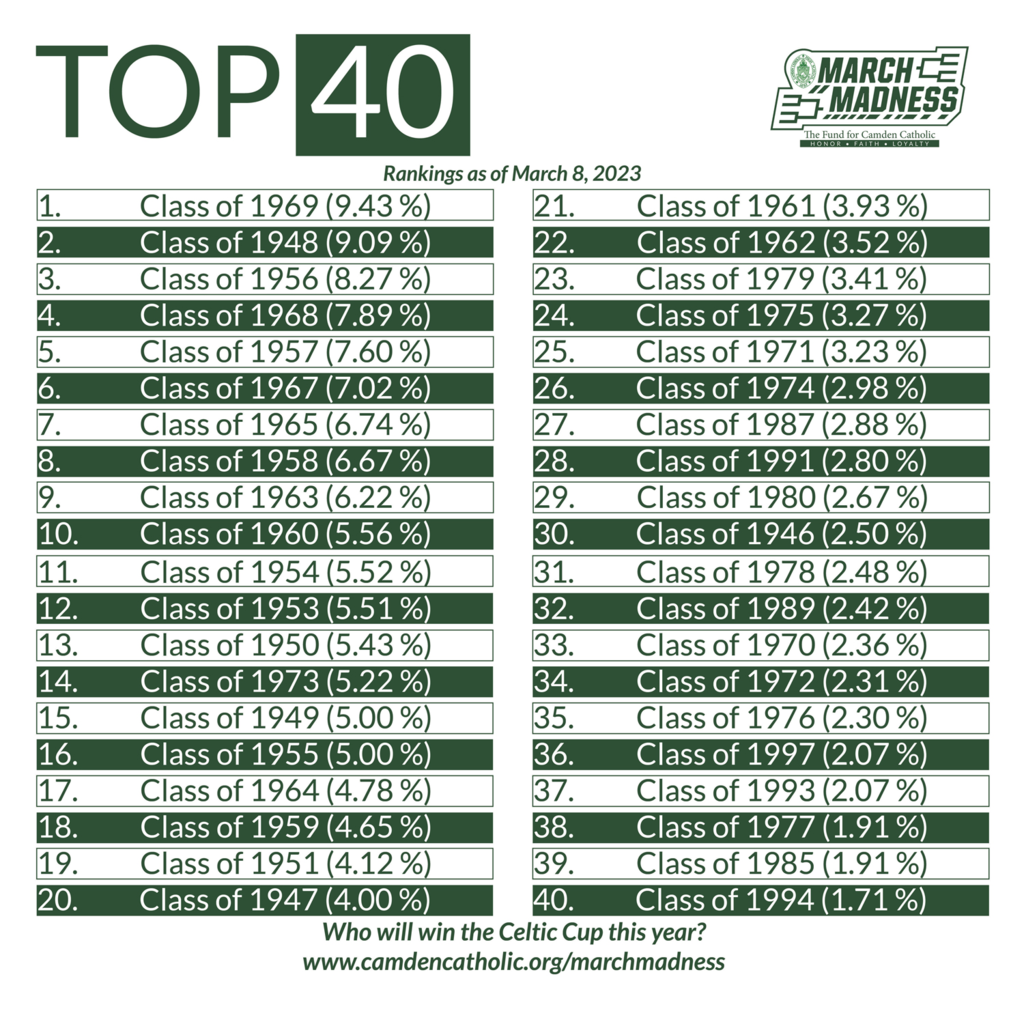 Irish Giving Day is just around the corner! How will you help this year? CCHS counts on your support to continue to form tomorrow's innovative leaders steeped in the Catholic tradition of mercy. From enhancing our academics, to improving our facilities, to growing our athletic and arts offerings, and most importantly funding tuition assistance and scholarships, we need all of our alumni, parents and friends to COME TOGETHER for Irish Giving Day this year. To donate, visit
www.camdencatholic.org/IGD
.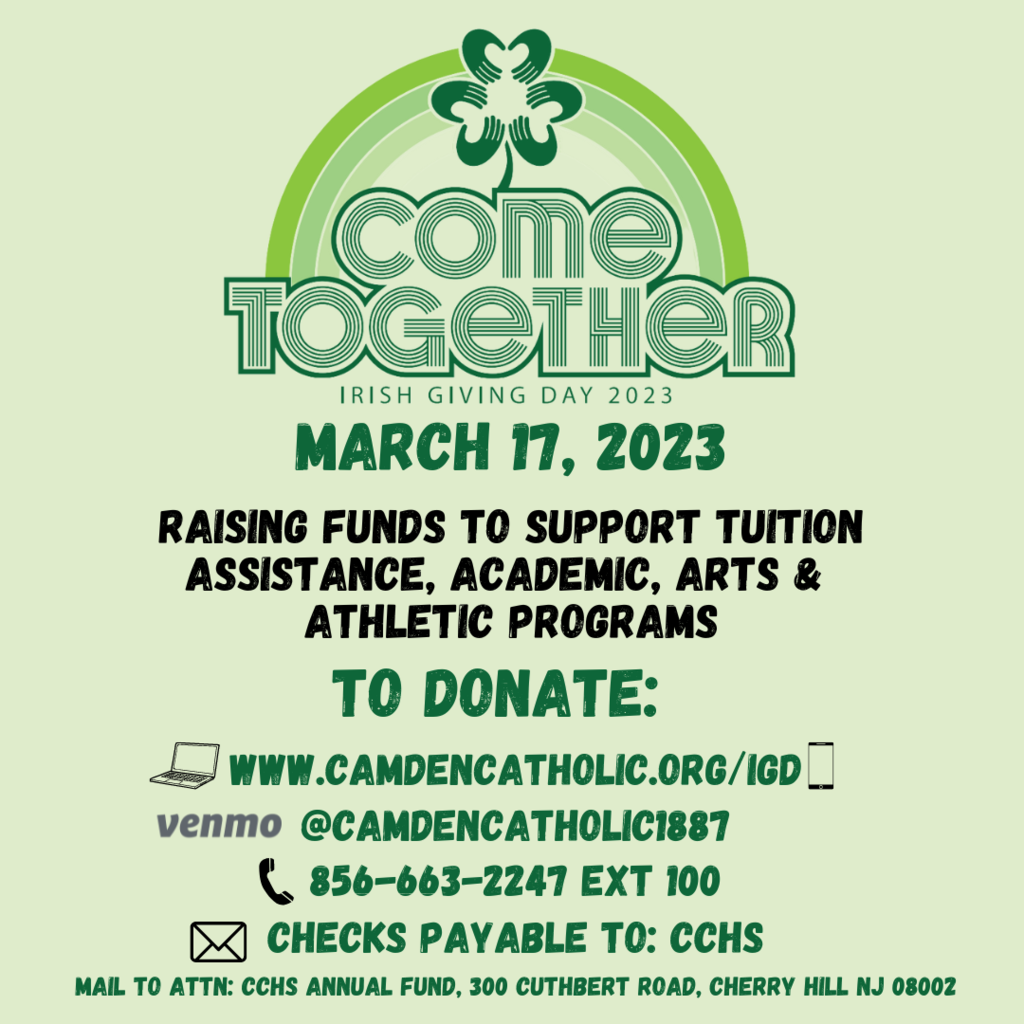 HUGE NIGHT for Irish Basketball with both teams competing in the Sectional Semifinal. Girls are at PVI at 6PM and Boys host Union Catholic at 7PM. Get out to support both teams! #NJSIAAPlayoffs #IrishPride #CamdenCatholicBasketball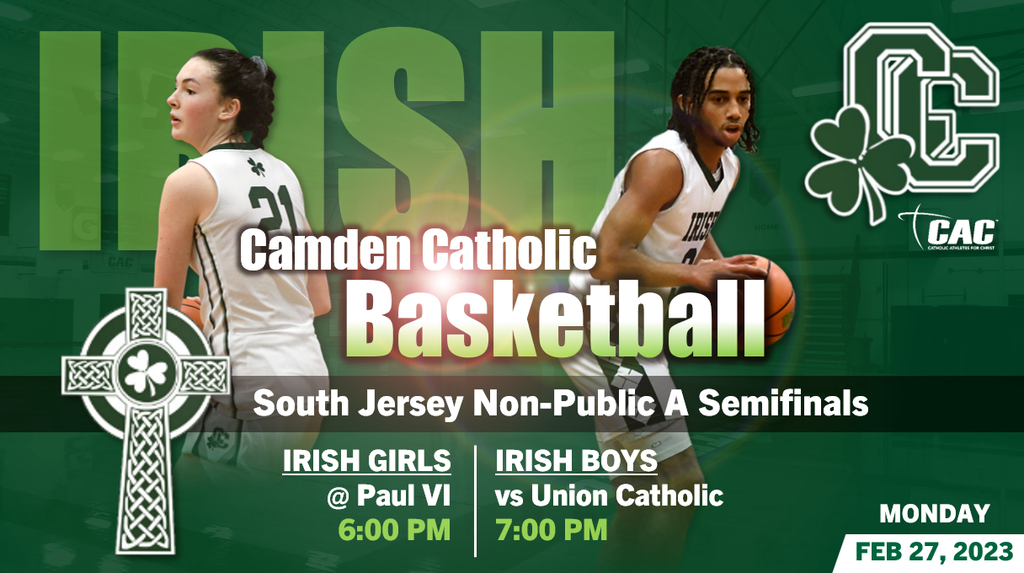 Celebrating Black History Month at CCHS: members of the St. Martin de Porres Society, Black African Student Alliance and Student Government Executive Council visited Philadelphia's Museum of the American Revolution for their special exhibit Black Founders: The Forten Family of Philadelphia. The students were able to step back in time through this interactive experience to see how James Forten and his descendants navigated the American Revolution and cross-racial relationships in Philadelphia to become leaders in the abolition movement in the lead-up to the Civil War and the women's suffrage movement.
CCHS marked the start of Lent today with Ash Wednesday Mass where Fr. Robbins reminded our community of the opportunity to transform through prayer, fasting and almsgiving over these 40 days. Students assisted in the distribution of ashes. We pray for the strength of spirit and growth of faith for our entire community during the season of Lent.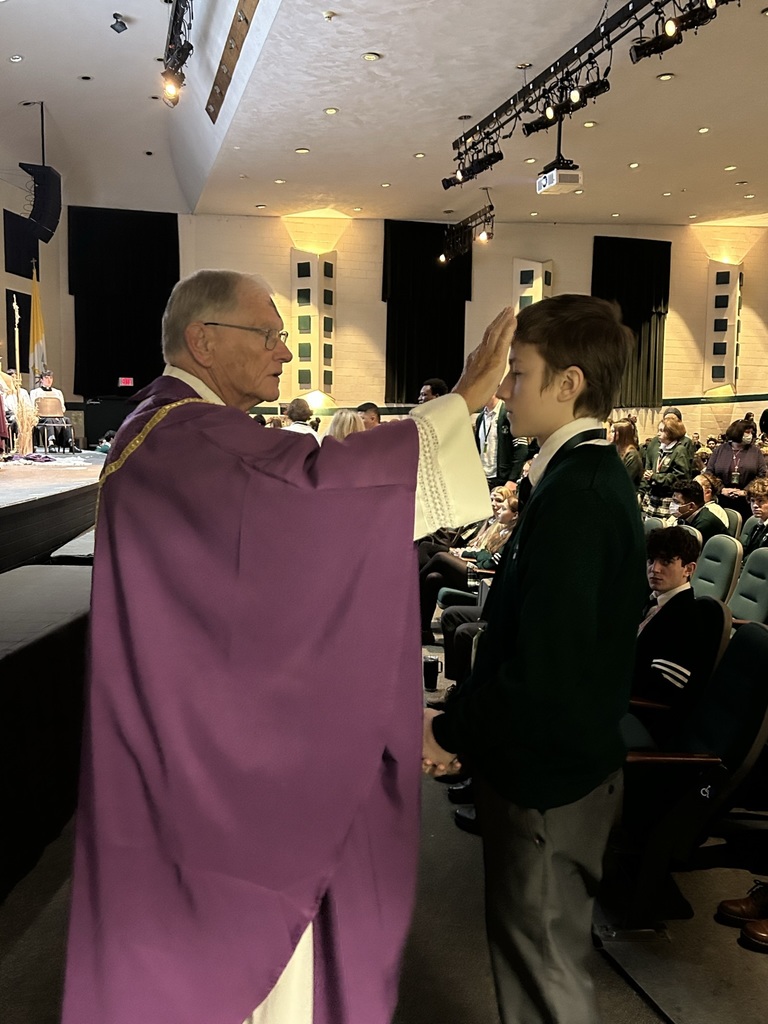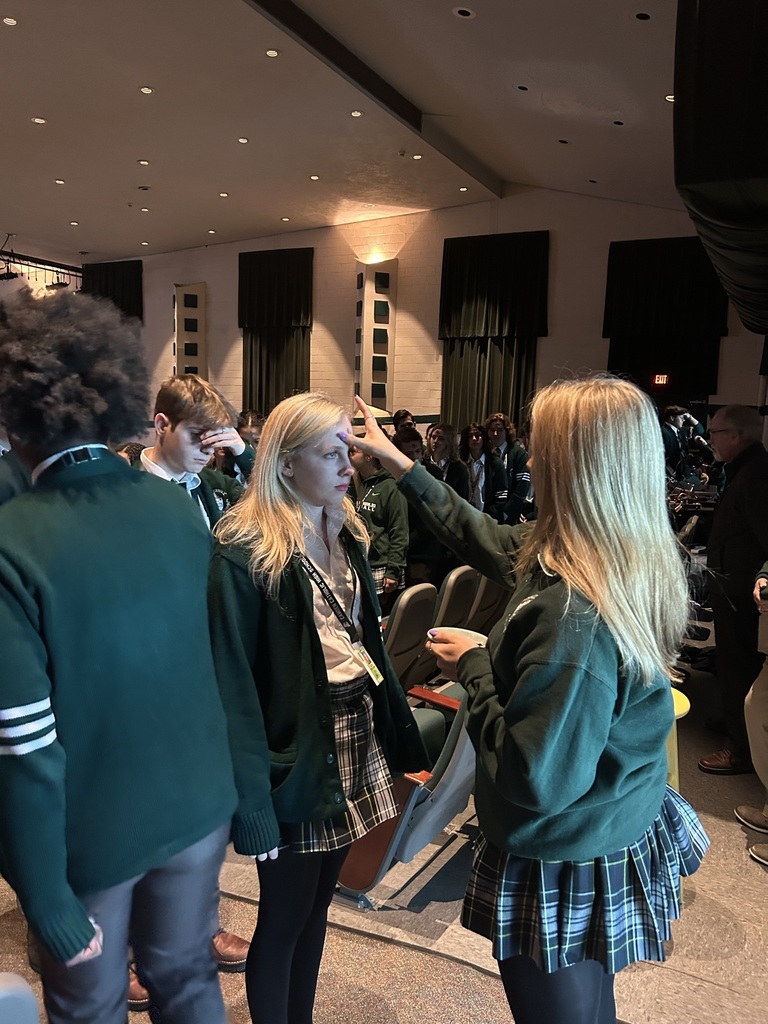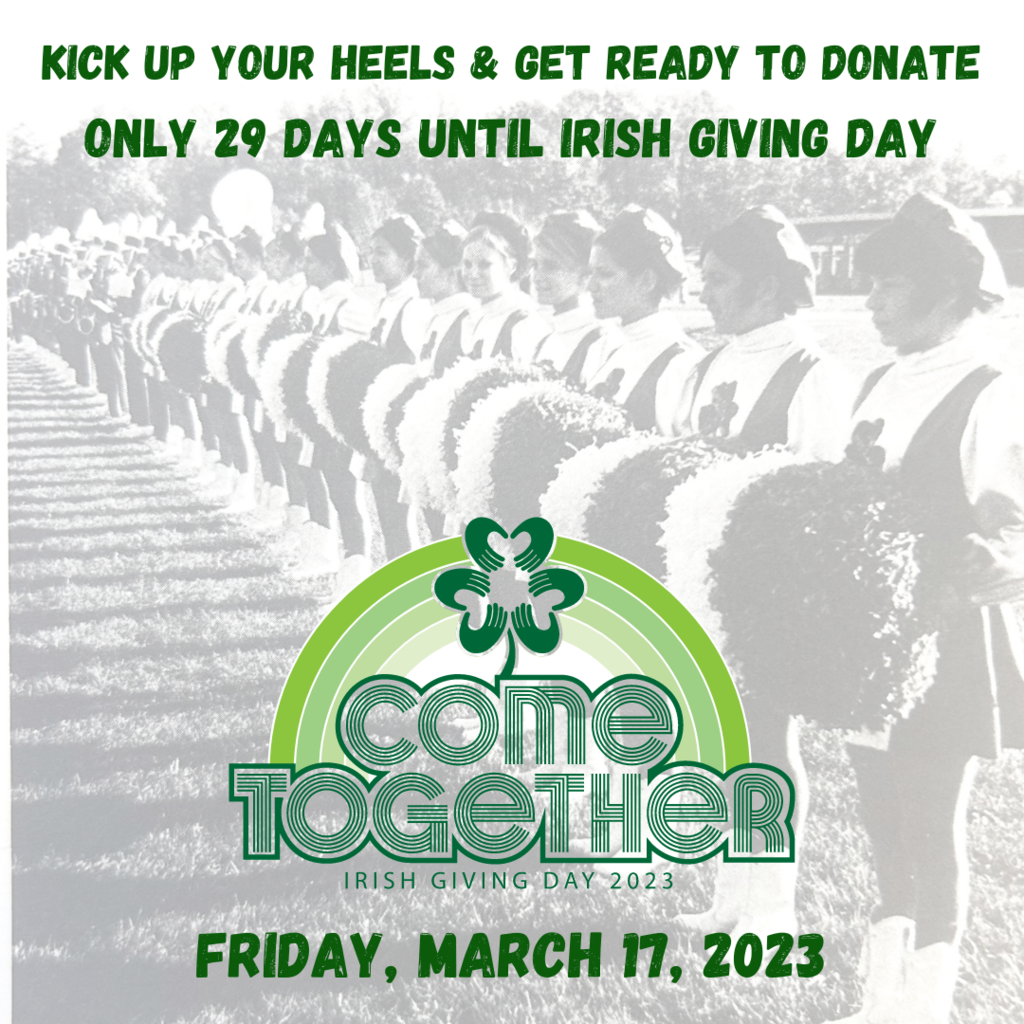 Congratulations to CCHS Robotics Team 41618F, who won the Monroe High School Robotics Tournament this weekend! Team 41618F, with seniors Nate Consuegra, Bryant Pham, and Christian Contreras, won CCHS' first VEX trophy for Tournament Champion. With that award comes an invitation to compete at the New Jersey State Championship in three weeks at Bell Works Labs in Holmdel. Congratulations to all of the members of the CCHS Robotics Team and faculty mentor Dr. Nguyen!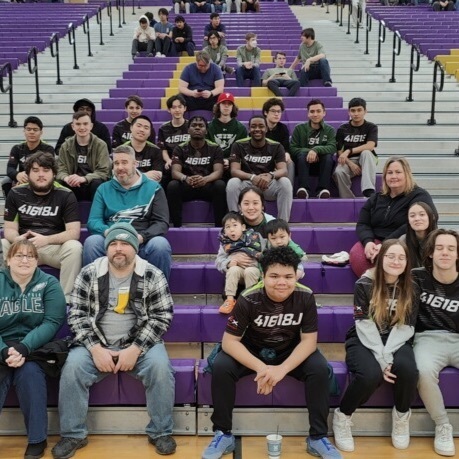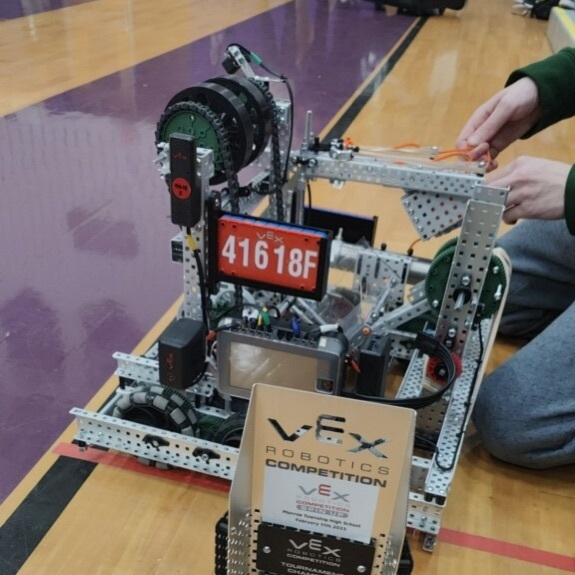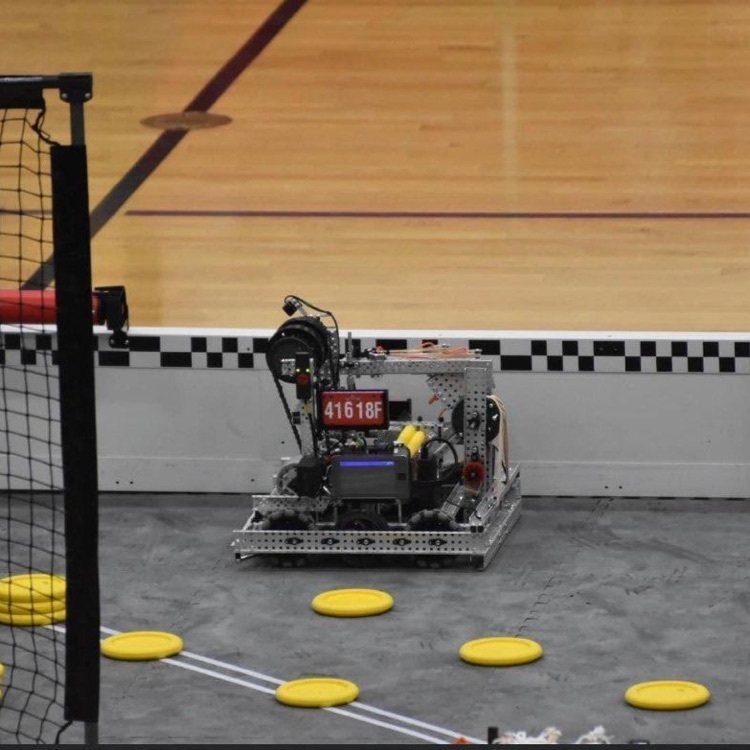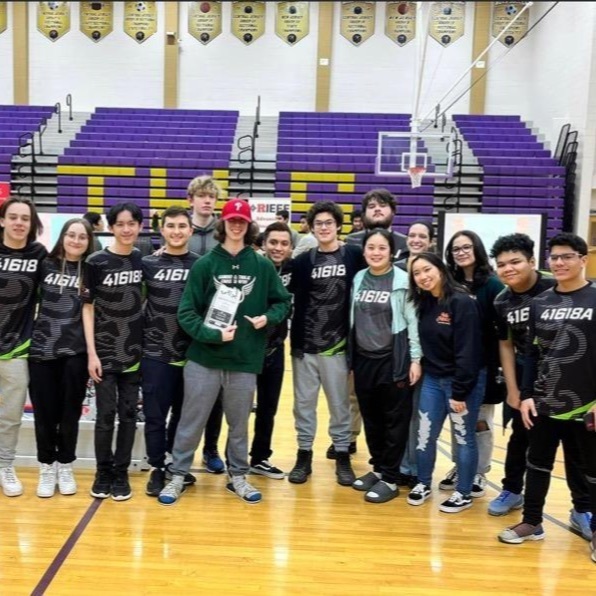 Irish Giving Day shirts are now on sale for current students, faculty and staff! Reserve yours today to show your #IrishPride and to support The Fund for Camden Catholic. Purchase a shirt = help CCHS reach our #IGD23 goal Purchase a sweatshirt = wear over uniform March 13-17 Purchase a t-shirt or sweatshirt = get a full dress down March 10 All shirt purchasers can wear their tee or hoodie with uniform bottoms on March 17. CLICK HERE to purchase:
https://tinyurl.com/yz8j2fhw
Congratulations to Irish Wrestling who won their 19th State Title on Sunday, February 12 by beating St. John Vianney 33-29 in the Non-Public Group B State Championship match.
Happy National School Counselors Week! CCHS is blessed with Ms. Sullivan, Mr. Crowley, Mrs. Weber, Ms. Mason, Mrs. Lavin and Ms. Henry. Each of these staff members supports, guides and encourages our students in many different ways which helps to make the Irish experience so foundational for every graduate. Thank you, Guidance Staff!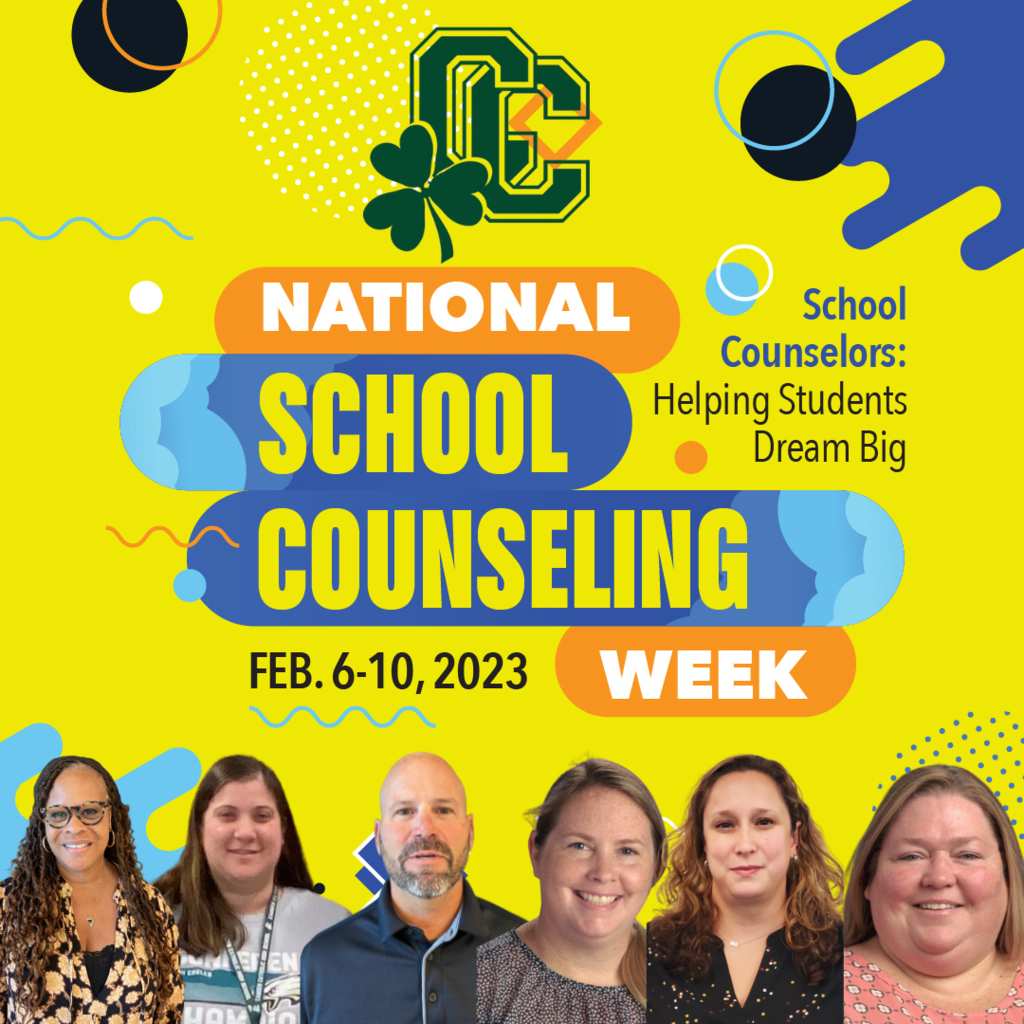 Attention CCHS families! The deadline for senior recognition ads is April 11. Create and congratulate your senior in the 2023 yearbook. Follow our yearbook instagram @camdencatholic.yearbook, and click the link in the bio for more information in how to purchase and create.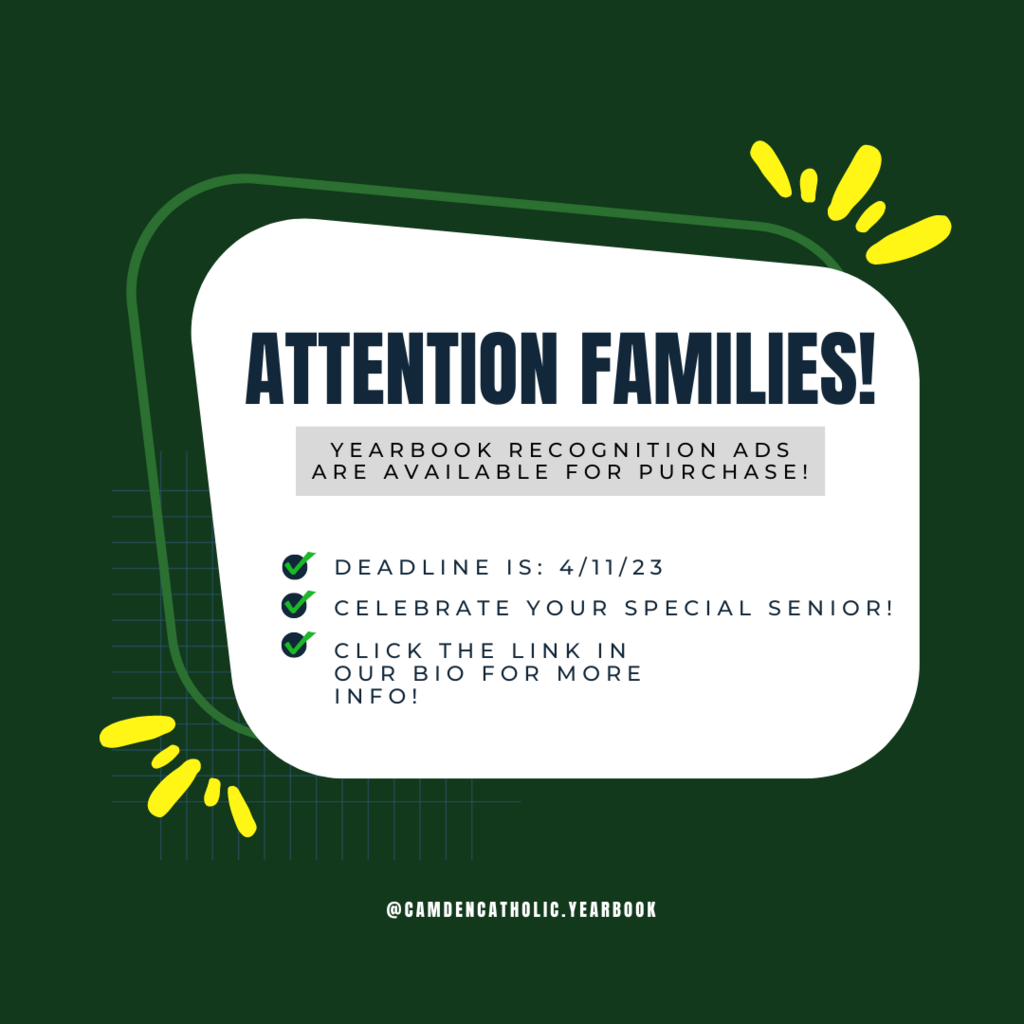 50 CCHS students traveled to Quebec, Canada and the surrounding area to explore the incredible snowy sights and French-Canadian culture. Highlights of the experience included visits to the St.Anne de Beaupré Basilica, Montmorency Falls, Hotel de Glacé as well as snowshoeing and dog-sledding!